Badminton is known to be a quick and silent sport with players only in news for results of the tournaments. Unlike other sports, there are very few controversies involved in badminton due to the simplicity of the game. However, with world-class players in the circuit, and a lot of rules and regulations, controversies always come up in some way or the other. In this article, I will tell you about a few controversies that shook the badminton fraternity as well as the fans. 
Also read: Top Comebacks in Badminton
#1 Super Dan's on-court outburst
During the 2008 Korea Open, two-times Olympic Champion, Lin Dan who is known for his short temper, created controversy when he tried to physically attack South Korean coach Li Mao. Lin Dan suffered a 4-21,23-21,25-23 defeat against Lee Hyun-il in the final after some controversial line calls. While Lin complained to the umpire, Lee's coach, Li Mao said something that shook Lin Dan's temper. 
Lin appeared to throw his racquet in Li's direction after protesting a line call which proclaimed Li as the winner. This led to a conflict between Lin Dan, Lin's coach Zhong Bo and Li, and the officials had to jump in to separate them. Lin Dan was shown a yellow card for his actions. Lin refused to apologize for his behavior and said that the Korean team had behaved 'dishonorably'.
#2 Lee Chong Wei and Doping
Lee Chong Wei tested positive for anti-inflammatory drug dexamethasone during the 2014 World Championships in which he finished runner up. A three-member panel was formed to look into the matter and he could have faced a 2-year ban which would affect his career to a large extent.
However, in April 2015 the panel ruled than dexamethasone was not a performance-enhancing drug and that Lee had been negligent with no intention to cheat. He was charged with an eight months ban. The absence had affected Lee Chong Wei's ranking which dropped to 180 in the world.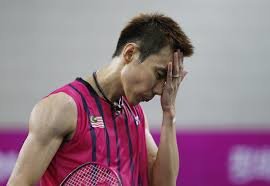 #3 Kento Momota banned from Olympics 
Kento Momota was suspended from the Rio Olympics for gambling. The 21-year-old was World no. 2 at the time he was suspended. Gambling is illegal in Japan. Notably, he was not banned by the IOC and the BWF, instead of his own country. The gambling amount was revealed to be 5,00,000 yen in just a matter of six visits to the casino. His teammate, Kenichi Tago, frittered away an estimated 10 million yen after more than 60 visits to various casinos in the country. After his return to the circuit, his Badminton World Federation (BWF) ranking had fallen to below the 250 mark, and he could not obtain entry to any of the quality Superseries tournaments.
#4 Playing it loose at the Olympics
In the 2012 Olympics, 8 women badminton players were expelled as they involved in match-fixing, trying to lose their match for easy quarter-final draws. 1 pair from China, 2 from South Korea, 1 from Indonesia purposely lost so that they can play against easy pairs in the knockout phase. All of them had already qualified for the quarter-finals. Intentionally, the players repeatedly served into the net and hit the shuttle wide to gift points to their opponents. 
After the end of the day's play, the Badminton World Federation(BWF) decided to disqualify the player for "Not giving their best to win a match". 
And this led the Chinese player, Yu Yang to announce her retirement at the age of 26. 
#5 World Championship Air-Issues
In 2013, Lin Dan made a comeback by winning the World championships against Lee Chong Wei. Lee retired at the crucial end of the finals due to cramps in his leg. Later, Lin Dan's coach blamed the Air conditioner for Lee retiring so early. He said that in the second game the air conditioners were turned off, but the organizers ruled out the foul play saying that the air conditions were affected because of an increase in spectators. Moreover, the tournament began with controversy as many players started questioning a 'wildcard' entry to Lin Dan who took an 8-month break. 
Final Thoughts
I hope you enjoyed this article.
Thanks for reading. Keep playing.