Are you having a hard time choosing which badminton racket brand is the best one for you? Whether you're a beginner, intermediate, or a pro, when it comes to deciding which badminton racket to purchase, it can be a stressful and hard decision.
People who are really into badminton and are professionals who play badminton daily, for them, it is very important that they have the best of the best badminton racket.
Also, with so many brands and varieties available on the market these days, you're like where do I even start? What do I even do? Even choosing a badminton racket for a beginner is just as hard. Trust me, I have been there and done that.
Choosing what brand to buy can be a hassle, you hear a lot of different opinions, and in the end, you get a headache, and are confused about what to do. Well don't fear, I am here to break down some of the best badminton racket brands that are top-notch in the market these days.
Yonex
Yonex is one of the most famous and well-known badminton racket brands. Most professional players use rackets by this brand, and if you're someone who wants to invest in a really good badminton racket, then this brand has got you covered. Yonex offers a variety of rackets for different skill levels, and they specialize in power badminton rackets.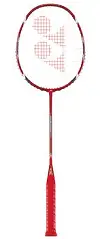 Yonex guarantees that their badminton rackets are ideal because they offer better control, and in general, are more efficient to use. One of the most top Yonex badminton rackets is the Yonex Arcsaber 11. It is not only the top in Yonex but claimed to be the best of the best.
Yonex Arcsaber 10 is a favorite of many professional players. It provides great accuracy and control. The maneuverability is super superior and provides a solid feeling. Hands down, if you are serious about badminton, this is the racket for you.
Ashaway
Ashaway is also one of the most popular brands among other badminton racket brands. They are quite popular in the United Kingdom. They are a premium brand, and their motto is that they are extending or enhancing badminton racket technology.

The best thing about Ashaway rackets is that they are extremely lightweight, so that is great, especially when you are trying to or planning to play the move "smash" in badminton.
The lightweight makes it the ideal racket for playing tense or powerful shots like the smash, as I said before, and it also has a lot more control. The top racket for this brand is called Ashaway Phantom X-Fire Orange badminton racket.
I know the name sounds furious and aggressive, but the racket itself provides you with powerful control and solid feeling. It weighs 89gm and is extra stiff. It also has an aerodynamic concept, so it moves faster in the air.
Babolat
We all must've heard about Rafael Nadal, the famous Spanish tennis player who is ranked no.2 in men's singles currently. He is a Babolat brand user, so I mean if a no.2 ranked guy is using their rackets, we know their badminton rackets must be amazing.
Yes, this racket brand is more towards the expensive side, but again if you're looking to invest in a long-term badminton racket, why not invest in a Babolat racket that will last you a long time.
Most Babolat badminton rackets are power rackets and are used for very intense and powerful shots. So if you are into intense badminton which has shots coming back and forth from one court to the other, this is the brand for you.
The top racket for this brand is called the Pulse Power badminton racket. It provides a balance of speed, accuracy, and control. It is made of full carbon graphite from head to toe. It weighs 86gm and is extra flexible for more power.
Li-Ning
Li-ning is a Chinese brand, and it is also one of the high-end brands available. It is mostly used by the Chinese National team. Their badminton rackets framework is incredibly light, just like Ashaway, and provides amazing aerodynamics and stability.

These badminton rackets are recommended for more intermediate to advanced players. So, if you are a beginner, this racket may be a bit hard for you to get used to, and this brand might not be the one for you.
Woods N80-S is the top badminton racket for this brand. It is a very stylish racket which has the colors gold and silver on it. It has a carbon-fiber body making it lightweight. They also say it has shock absorption abilities, which is a new thing.
Like the other rackets, it also has a lot of power, which is great for intense shots. They also guarantee that you get maximum strength and power regardless of the frame facing in any direction.
Adidas

I am sure everyone knows about this famous and worldwide known brand. Adidas not only manufactures badminton rackets but is also known for providing a variety of other sports equipment. If you're a beginner, then I recommend this brand for you because they provide badminton rackets for all skill levels.
Yes, Adidas is also on the expensive side, but aren't all high-end badminton racket brands? They are not only durable rackets but also very easy to use and provide a lot of control.
For Adidas, the Wucht P8 racket is the top one. It is quite expensive compared to the other ones. This racket is recommended for advanced players as it has a strong build. It guarantees flawless jump smashes with high power swings.
Adidas says it also has very advanced technologies. This technology makes it more durable and generally makes it deliver a better performance. 
Yehlex
Yehlex is another successful and well-known brand in the United Kingdom. They actually go by two names Yehlex and Apacs. They have forty rackets in their range, and they started with only four.

Yehlex is recommended for beginner players because their badminton rackets are mainly used and designed for training. So, if you're someone who wants to practice your service, your aim, and just generally a steady arm and hand, then this brand is definitely for you.
It also isn't as expensive as Adidas. For Yehlex, the top racket is the Yehlex YX-8000 Woven. It is not that expensive, quite reasonable. People call it simply brilliant because of its slim shaft, and it gives high stringing tensions. The slim shaft gives better accuracy, and it improves control, which is what all badminton players want.
Personally, I play badminton too, but as for fun, I am not a professional, but I own a Yehlex badminton racket, as it was recommended to me by my friend. And let me tell you it is the most amazing racket I have ever used, and it is very durable.
Wilson

Wilson is an American sporting goods brand, like Adidas, is doesn't only manufacture badminton rackets, but also other sporting goods. The topmost recommended Wilson badminton racket is the Wilson Recon 250, it is described as having an aggressive power and has a unique framework, and generally a lot of power.
It guarantees that with the technology it is built, it gives you the chance to just absolutely crush your opponent. Also, Wilson is a brand for more professional players and for those who are serious about badminton. It is also not that expensive.
Final Thoughts
In badminton, a racket is your tool, and you need to choose the right tool to outplay your opponents. When choosing a badminton racket, especially for the long term and if you're a serious badminton player, you need to see what compliments you.
You need to see what type of features you are looking for in a badminton racket, do you want a slim and lightweight one or a more aggressive and sturdy type for those deadly smash shots.
Each and everything matters. So, before you buy a badminton racket, make sure you know everything it has to offer. Also, if you're a serious player, an expensive initial investment is the best choice for you.
I hope this article helped you and made your confusion a bit clearer and easier to decide what brand you should choose. Again, each brand has many varieties and different types of rackets at different prices, so I cannot emphasize this enough, but make sure you are well-researched about the type of racket you're choosing to buy.  
If you're not sure how to choose the right badminton racket, I'm pretty sure that this article will help you. Check it out and be smart!
If this article was helpful, do share it so that it will reach other badminton fans as well.
Enjoy the game!