While everything in badminton was revolving around Lin Dan, Lee Chong Wei, Victor Axelson, and a few more, Kento Momota is the new superstar breaking and making his records in the sport. He capped an invincible 2018 season, by becoming the first Japanese men's singles player to become World no. 1. It was just a while back he returned after serving his year-long ban in 2017 and what a comeback by the Japanese star.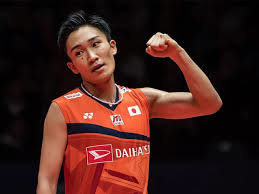 Since his return from the gambling ban in 2017, he initially played on Challenger circuits as he did not have enough ranking points to take part in the Superseries events. With his dedication and focus, 2018 was a year to remember for him and the badminton fraternity.
He came back in style by winning the Asian Championships by defeating the Olympic gold medallist, Chen Long in the finals. This was just the start. He went on to reach the finals of seven BWF World Tour tournaments, winning four titles along with the prestigious World Championship crown.
Well, the record does not end here. Momota's 2019 season was filled even with greater victories. He just lost once in the first round at the Malaysia Masters and in the 12 finals that he reached, he triumphed in 11 of them. With this, he broke the record of highest superseries titles in a year, which was initially held by Lee Chong Wei run of 10 titles in 2010. His win-loss record for the year stood at an unbelievable 67-6. Momota also became the first Japenese player to win an All England title.
With such a spectacular season, he was awarded as the BWF best male player of the year. Momota began his 2020 season as World no. 1 and did not disappoint as he won the Malaysia Masters by defeating Victor Axelson, 21-22, 21-11 in the final. With this, he extended his head to head record with Axelson to a massive 14-1. Notably, his career record stands with 335 wins and 78 losses. To read about his five best performances, click here.
Unfortunately, Momota was involved with a tragic accident on the way to the airport after winning the Malaysia Masters. Along with a broken nose, he suffered injuries to his lips and face. Momota was banned from taking part in the Rio Olympics even while he was qualified for the event.
He was won almost all tournaments but misses out on the most precious, an Olympic medal. At the age of 25, he is now looking ahead to Tokyo 2021 which is scheduled in his country. This will be his debut at the Olympics after he missed Rio 2016. In the Race to Tokyo ranking list (as on 24/3/2020), he is ranked no. 1 with 1,05,968 points. The 2021 Olympics which is to take place in his own country will give him a chance to avenge his loss of not participating in 2016. Moreover, following his stellar season, expectations from the home crowd and his worldwide fans will be high.
Final Thoughts
Momota has beaten all records in badminton with his consistency. His journey is an inspiration to all badminton players around the World.
I hope you enjoyed this article.
Thanks for reading. Keep playing.