As India is reaching heights in the World of sports, several different sports other than Cricket have bought laurels for the country. One of them being badminton, Indian shuttlers are now at par on the basis of quality with the other dominant Asian countries. Shuttlers like PV Sindhu, Saina Nehwal, Srikanth Kidambi and many more have earned medals for the country beating some of the best in the World.
This has inspired many young shuttlers and has encouraged them to take up the sport at a very young age. It was Pullela Gopichand and Prakash Padukone who embarked the rise of badminton in India by bringing up the level of quality in Indian Badminton.
If you are an aspiring badminton player or a curious parent of one, you might want to know about the best academies and academies for quality badminton training in India. I have entailed a list of Top 10 badminton institutes in India that offer the best grooming for shuttlers in the country.
Pullela Gopichand Badminton Academy

Pullela Gopichand is the Chief National Coach of India. He started this facility in 2008 in Hyderabad. It is a World class facility and includes the likes of PV Sindhu, Saina Nehwal, Srikanth Kidambi and many more prominent Indian players. Apart from these eminent personalities, it has groomed various other players that have earned several National and International medals for the country.
The academy features eight indoor courts, weight training room, swimming pool, cafeteria,and many more amenities.The academy has appointed highly qualified Indian and International Coaches and the trainees will have access to facilities like the gym, swimming pool and athletics track in the sports complex.
Address: Survey No.91, ISB Rd, Near Central Government Staff Colony, Gachibowli, Hyderabad, Telangana 500032
Fees: Preference to National Players, 2000 ( without accommodation), 15000(with accommodation)
Prakash Padukone Badminton Academy
This academy was founded by Prakash Padukone, Vivek Kumar and Vimal Kumar in 1994. It is among the most reputed academy in India and has collaborations with Badminton England and Morton Frost's Aarhus Badminton Academy Denmark. Vimal Kumar is designated as the Chief Coach at the Academy, who was the chief National coach at IBF World Badminton Academy from 2003-2006.
A special feature of the academy is that it has a sports scholarship programme for upcoming athletes, primarily girls. This scholarship is offered for 12 months and can be extended on the basis of performance.
The academy houses five badminton courts, one swimming pool, and a squash court. To know more about the types of badminton courts, click here. The training methodology is very defined and includes sports psychology, nutritional guidance and physical and mental training. It is located at the Padukone-Dravid center of sports excellence spread over 15 acres near the Kempegowda International Airport. It also has a branch in Mumbai, at the Cricket Club of India which serves as a feeder unit to the Bangalore elite center.
Padukone-Dravid Centre for Sports Excellency Survey
No. 336, Bettahalasuru Jala Hobli,
Yelahanka Taluk, Yelahanka
Bengaluru,
Karnataka 562157
Phone: 9945780298
Ardour Badminton Academy
This is a Delhi based academy that was started in 2011 by former Badminton Coach, Arun Khurana, who has worked in the Sports Department as Directorate of Education. The entry age to this academy is 8 years old which allows kids to outshine themselves at an early age. It is occupied with experts and professionals with a nominal fee that can be afforded by all. The academy features four indoor courts and is located in Rohini, Delhi.
Address: V 76, Gali No 23, Sharma Colony, Budh Vihar Phase 2,, Opp Sector 24, Rohini, Delhi, 110085
Fees: INR 1000-1500 per month.
SAI's Badminton Training Centre
The Sports Authority of India started the SAI Training Centre in 1982. It comes under the Government of India and features 10 Indoor courts. The selected athletes are provided with training and lodging amenities by SAI. The age group ranges from 12-18 years and the academy focuses on nurturing talent from a young age. It has produced many prominent badminton players in India.
Address: Sports Authority of India, Near ITO Bridge, Delhi- 110002
M.V Bisht Academy
This academy was started by a former badminton player, Madhumita Bisht. She is one of the group coaches who coached the Indian team for the 2016 Rio Olympics. It has three branches in Delhi with Vikram Singh Bisht as the head coach. He was the Bronze medallist at the Asian Games in 1982. The academy provides specialized coaching and houses three indoor courts. The minimum age to join this academy is 7 years old.
Address: DDA Squash and Badminton Stadium, Siri Fort Rd, Next to Girgi college, New Delhi, Delhi 110049.
Fees: INR 3000 per month
Suchitra Badminton Academy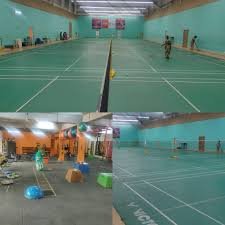 This is a world-class facility with seven maple wood and synthetic badminton courts along with a gym, trainers, physio, and hostels. It leans heavily on science and foreign coaches with a mission to produce world-class players. Its daily schedule is structured in a way so that students can seamlessly slip from sports to studies. This academy is considered the second-best academy in Hyderabad after Pullela Gopichand Academy.
Address: Junction 4, 102, Suchitra Rd, Hyderabad, Telangana 500055
Final Thoughts
If you are aiming for a professional career in badminton, a good academy is the first base that will help you reach your goals. So keep practicing under professional guidance at good academies as practicing without supervision may lead to injuries, incorrect methods, and many more problems.

I hope you found this article helpful.
Thanks for reading. Enjoy the game!