Yonex is one of the most famous and trusted brand for badminton racquets and equipment. Most professional players like Carolina Marin, Kento Momota, Lin Dan and many more use this racquet brand. Yonex offers a variety of racquets, for different skill sets.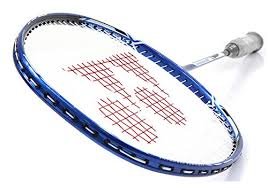 One special feature is that Yonex uses the Nano science technology which creates ultra light weight racquets that are thinner, stronger and more stable than an ordinary racquet. While selecting a racquet, you must be very careful as the racquet plays a vital part in maximizing your potential on court.
Yonex offers a series of badminton racquets like the Astrox, Nanoflare, Voltric and many more. In this article I will help you with 5 badminton racquets to choose if you are a professional player.
Yonex Astrox 88s
This particular racquet is targeted for finesse players who control the net, usually the players at the frontcourt in doubles. Additionally, the overall length of the Astrox 88S is only 5mm longer, which enhances both accuracy and power. Astrox rackets are an attack-oriented model that can take the lead in a high-speed game with a design that can deliver powerful, steep smashes, allowing players to dominate the court. The counter-balanced head adapts to each shot, helping you to control the drive and to attack the opposition with increased acceleration, steeper angle, and power on the smash.
Yonex Arcsaber 11
The Yonex Arcsaber 11 is an improvement of Arcsaber 10. It is specially designed to create a competitive advantage during fast paced rallies of intense matches. It is quite similar to Arcsaber 11 but comes with better control and ease of use. Additionally, it gives you comfort so that your arms and forearms don't get tired that easily. It is an even balanced racquet for explosive all round play. It also gives you unmatched control over each shot. In general, this racquet is an excellent choice as it creates a controlled explosion of your power.
Unlike other badminton racquets, it is also very durable. It is a racquet for explosive and aggressive players, especially in singles.
Yonex Voltric Z Force 2
It is a progression of Voltric Z Force. However, in the new version, the head and the shaft are slimmer. With immense offesnsive power for smashes it is regarded as one of the best racquets for singles. It has been used by many elite players like PV Sindhu, Lin Dan, Lee Chong Wei and many more.
The ultra-thin shaft and ultra-aerodynamic head shape allows it to be hit with increased power. It excels at the backcourt because its fast and smooth swing allows the shuttle to be hit with a lot of power. It is a racquet used for advanced and offensive players.
Yonex Voltric 80
If you are looking for a racquet with the best features at an affordable price, I think this is the one. It is an excellent choice for defense and power. It is a head heavy racquet, therefore good for defensive players. It also comes with good smashing power, improved speed, and impressive control. It is highly recommended for advanced players with an aggressive and fast style play.
Yonex Astrox 99
It is the choice of the reigning World Champion, Kento Momota. Notably, it is one of the best singles racquet used by several top players. It is a choice for advanced players who value power, speed, and precision. Also, the best choice for attack-minded players as it has exquisite smashing abilities.
It is featured with a head heavy balance and stiff shaft which offers players an explosive racquet with a focus on power and smashing. It is currently the World no. 1 racquet. To know more about this racquet, click here.
Final Thoughts
I hope you found this article helpful in choosing your racquet.
Thanks for reading. Keep playing!