Badminton is one of the most popular sports in the world with almost 220 million people playing the sport. With the likes of Saina Nehwal, PV Sindhu, Srikanth Kidambi, and a few more, the popularity of badminton has increased exponentially in India. This has raised the demand for badminton venues.
From children to old people, everyone enjoys the sport. These people enroll themselves either for badminton coaching or just playing to stay fit at these badminton venues. There are various types of badminton courts. I will help you with all the information on the different types of courts and also will explain which court surface you should play to avoid injuries.
Synthetic Badminton Court
This surface is the best surface for playing badminton. When you watch all National and International tournaments, you will see that all these matches are conducted on synthetic courts. It is a top-class surface that is laid on a wooden base. The synthetic surface provides better bounce and is anti-slippery which helps you not to slip on the court. This will help to reduce the strain on your knees and protect them from injuries. There are two types of synthetic courts:
1. PVC Badminton court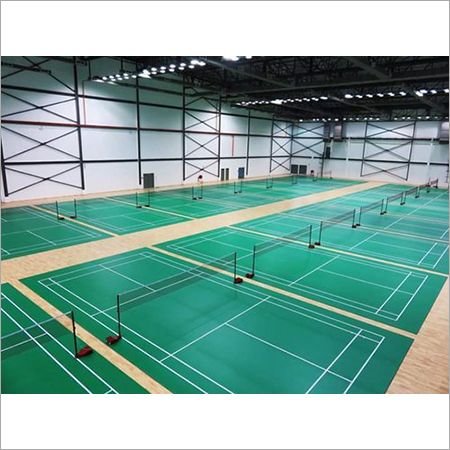 They are very popular as they provide decent anti-slip properties. They are available in the form of mats and it is very easy to lay them on the badminton court. They are segregated into the surface, middle and lower mats. While the surface mats provide durability, anti-slip, and abrasion-resistant properties, the middle mats add stability.
2. Acrylic Badminton Court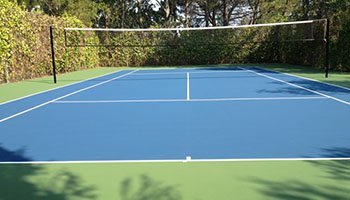 The most celebrated feature of an acrylic surface is that it comes in many colors and can be used for many different sports. It also has anti-slip properties and is more economical than a PVC surface. However, the shock absorption is not as good as a PVC surface.
Wooden Badminton Court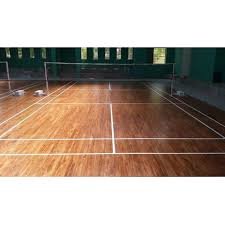 After a synthetic surface, a wooden surface is the most used surface for a badminton court. The BWF itself recommends wooden flooring. It has a natural shock absorption capability. This makes it a great playing surface. However not all wood surfaces are recommended for play. When it gets wet with sweat or water, the surface becomes slippery and makes it difficult to play. The best one is hardwood.
Cement Badminton Court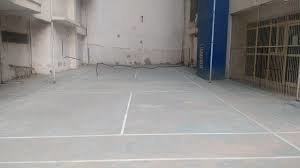 These surfaces are mostly seen outdoors, installed in parks. This surface is not recommended for everyday play as it does not provide shock absorption for your knees. This could lead to injuries.
Rubber Mat Flooring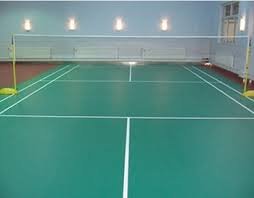 This is a recent product for Indoor sports flooring. It is a natural rubber cushioned surface that can be used for various sports. It is easy to maintain and has a good shock absorption mechanism. Also, easy to install and uninstall.
Outdoor Badminton Courts
Even though professional badminton has always been an indoor sport, plenty of people around the world play badminton outdoors for fun and recreation. It is very less expensive and effortless to set up an outdoor badminton court compared to an indoor court.
Many people set up badminton courts in their backyard. If you're setting up a badminton court outdoors, you might need to keep some important things in mind. The first and foremost thing is that the place where you want to set up the court shouldn't be an open space. If it is, there are high chances of breeze, and that will negatively affect the quality of the game. Make sure you choose a closed space where the breeze is less.
The next thing to consider is the type of flooring. Some people set up cement flooring as it is pretty easy and cheap compared to other types of floorings. But, the chances of getting injured are extremely high.
You can't play badminton flawlessly on this type of court. You need to be very careful while you are playing as there's nothing worse than getting injured while playing. I got injured several times when I was playing on this type of court.
Now, when I'm playing outdoors, I wear knee pads to protect my knees from getting injured, as I always had issues with my knees while playing on these courts. Others set up badminton courts on the ground itself without any additional flooring. This is also dangerous as it can lead to many injuries. So, you need to be careful while playing on a court like this.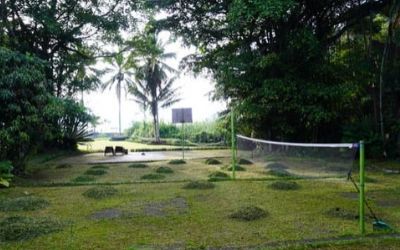 Some people set up courts in parks with grass or sand on it. This can be better than the other types of outdoor courts. Still, it is not the ideal way to play badminton.
The best way to play badminton is to play it indoors. However, if you can't do that, play the game outdoors, with safety being the priority.
Final Thoughts
Here are all the different badminton courts you could play on. Try avoiding a cement court and use proper shoes while playing to avoid injuries.
I hope you liked the article. Thanks for reading! Keep playing.