Badminton is a highly popular professional sport that requires a coach who has a deep knowledge of the game. The badminton fraternity has witnessed an increase in the demand for badminton coaches in the last few decades.
Because of quality coaches, the sport has seen a lot of development in the players. A coach plays a very important role in badminton. Moreover, coaching can be a fruitful career option for you if you are passionate about the game. 
Knowledge of badminton and a little experience of playing the sport are key aspects to becoming a badminton coach. You can start coaching at the local level in your nearby clubs using all your knowledge and experience. Eventually, you can coach at the National and International levels as well. 
However, coach education is also very important as it has a direct relation to player development. Along with badminton knowledge and skills, you need to know how to get into the professional arena to build your career. In this article, we will go through the requirements needed and steps to become a badminton coach.
Let's dive right in.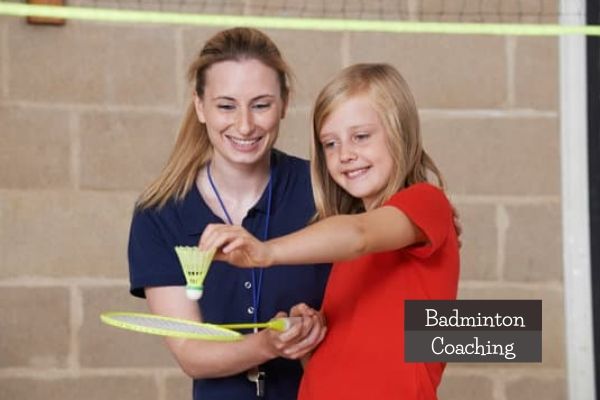 How To Become A Professional Badminton Coach
In order to become a successful badminton coach, you need some skills, knowledge, certifications, and experience in badminton. Let's discuss each of these requirements in detail and see how you can proceed through this journey.
Understanding Of The Game
We often see that many professional players become professional badminton coaches after they end their playing careers. Coaching is a great way to contribute to the sport and maintain your passion.
The advantage of professional players becoming coaches is that they already know the ins and outs of the game. They'll know the game situations from a player's perspective. Hence, it will be easy for them to use that experience and make good decisions when they're coaching.
Even if you're not a professional player, you can still become a badminton coach with the right skills and credentials.
The first and foremost thing you need to have to become a badminton coach is a deep understanding of the game. You need to be well versed in badminton so that you can help others improve their game.
Obviously, if you're a passionate badminton player, you might have a pretty good understanding of the game. But that's not enough. Having the right technique is one of the main aspects of coaching. Also, understanding the rules and regulations of the game is pretty essential for a badminton coach.
Most players need a coach in order to correct them if they're making any mistakes with their technique. You should be able to observe their style of play carefully and understand the flaws in their game. Then, help them correct these mistakes and improve their quality of play.
Sometimes, even if the player is too good with technique, he/she might have issues with their game plan or how they approach a game. That's when the role of a coach comes in. A coach needs to help a player to prepare well for a game mentally and physically.
Like many other professions, coaching is a job that requires teamwork and trust. A coach needs to have a good understanding of a player to work together. Also, the coach and player need to have mutual trust and respect in order to maintain a good and successful relationship.
Communication Skills
Apart from the technical aspects of coaching in badminton, as in any other sport, there are several other skills that you should master to become a successful coach.
Effective communication skills are really important as the player should understand what you teach, and you should be able to understand the concerns of the player. You should have the ability to express your thoughts logically to the player.
Taking responsibility and being honest about your work is really important. You should be sincere about your job as a coach and work hard towards the growth of the players. Develop your emotional intelligence and professionalism to be a good coach as well as a good person.
As a coach, it is your duty to ensure that the player is physically and mentally fit and ready before a match. At times, players might be going through unfavorable situations, and that's when your ability to inspire and motivate them should come into the picture.
You should inspire them with your words and give them as much support as you can to overcome bad situations. A coach should help a player to give his/her 100 percent effort on the court.
Understand the values and goals of your players. You should not just be a good coach but a good friend as well. Try to make it comfortable for both you and the player to work hard together towards the same goal.
Finding Someone To Work With
The best hack to becoming a great badminton coach is to work with a great coach. If you can find a good coach and work together with him or as an assistant coach, you'll be able to learn a lot of things. You can copy the tactics and methods from that coach and include them in your coaching framework.
Also, your mentor will guide you and give feedback based on your work. If you ever get such a chance, grab the opportunity with both hands and extract as much knowledge and qualities as possible.
If you don't know someone whom you can work with, try to reach out to various badminton academies and coaching institutes in your area. Go the extra mile to accomplish your goal.
If you see someone else coaching, you will get new tips, tactics, drills, exercises, etc., which you can incorporate into your sessions. Even if you don't get paid a lot, the experience that you get from working with a good coach will be worth your time.
Coaching Courses And Certifications
When it comes to professional coaching courses and certifications, different countries have different procedures. The right education and certifications are necessary to become a professional badminton coach.
Each country has different criteria for professional coaches. So, you need to plan according to the procedures in your country. Most national badminton associations offer courses and certification programs for aspiring coaches. Also, BWF has its own coach education framework.
Some of the coaching resources for various coach education programs are given below. Go to these appropriate websites to learn more about the entire process.
I just mentioned only a few coaching programs. You can search online and find out about the best coaching program available in your area. Apart from the various badminton federations, several badminton academies also offer coaching programs.
So go and enroll in a certification program and learn the basics of coaching. You'll learn about the different aspects of the game, such as rules, technique, skills, ethics, nutrition, training, sportsmanship, and a lot of other necessary things. This will not only improve your knowledge but also your confidence as a coach. 
Over the years, coach education has become extremely important. Moreover, there are coach certifications offered for different levels. However, the certifications will be different in each country. For instance, in India, the BAI (Badminton Association of India) offers the first two levels of BWF coach education. 
BWF Shuttle Time Course 
Coach Education Level 1
Coach Education Level 2 
The BWF Shuttle Time course has been designed to offer International certifications to deliver shuttle time activities to groups of children from 5-15. It covers:
Managing groups of students
Limited Equipment
A mixed range of badminton abilities
how to teach students with intellectual/physical disabilities. 
You can contact the National Federations of your country for further information on the courses. 
BWF Coach Education Level 1
This is the first level in the coach education framework. It is available in 9 languages and is a fundamental course for badminton coaches. The manual includes 13 modules and it outlines the basic principles of What to Coach and How to Coach. It also includes video clips that demonstrate various elements of badminton. 
Requirements
Motivated candidates with basic knowledge/experience in badminton.
Physical Education teachers with a badminton teaching certificate.
Existing badminton Coaches who want to develop themselves. 
BWF Coach Education Level 2 
The Coach education Level 2 is an advanced course catered for badminton coaches who are interested in a 1-year training program. Like level 1 this also focuses on What to Coach and How to Coach but in a detailed manner. It is currently available in four languages. The manual consists of 11 modules focusing on  HOW to Coach, WHEN to Coach, and WHAT to Coach.  It also contains a Tutors manual and video clips. 
Requirements:
A BWF Certified Level 1 Course
National/International level players
Motivated and Enthusiastic badminton coaches. 
In India, many private entities have also started their coach education programs. The first is Prakash Padukone Coach Education Program. 
The BWF (Badminton World Federation) offers 3 levels of coach education- Level 1, Level 2, and Level 3. Level 1 and Level 2 are already explained above. 
Coach Education Level 3 
It is a specialized coaching program for coaches who are interested in high-level youth coaching and/or elite coaching. It will initially be available only in English. The manual will include:
Coaching Systems showing the process from talent identification to elite level play.
Youth Development Models to support and guide talent development in young players. 
Elite Coaching on how to use the unique characteristics of players for their development. 
Tools to help coaches to develop the skills of their players at different stages. 
What coach education is provided by Badminton Oceania?
Oceania Sport Education Programme (OSEP)
This course offers general instructions to coaching principles that are targeted at beginner-level coaches. 
BOC Foundation Coach Course
This course is developed to bridge the gap between a BWF Shuttle Time Coach and BWF Level 1 Coach. 
All these courses can be done online as well. If you become a certified badminton coach, it not increases your credibility but also helps your students and parents to trust you even more.
Final Thoughts
Becoming a professional badminton coach is not a piece of cake. You need to have the right skills and qualifications to become a successful badminton coach.
There are differences between playing badminton and coaching badminton. A good player may not necessarily be a good coach and vice versa. If your goal is to become a badminton coach, try to implement the things that I've mentioned in this article.
Remember that becoming a professional badminton coach is not the end of the road. You should never stop learning and always have an open mind. Try to improve your skills and knowledge on the go, and hopefully, you'll be able to become a successful badminton coach.
I hope this article was helpful to you. If so, do share it so that others can also find it.
Thanks for reading. Enjoy badminton!