The Padukone Sports Management (PSM) has come up with a unique beginner-level program/course to train badminton enthusiasts to become certified badminton coaches. This is one of the very first private coaching certification setup for badminton in a country that has witnessed a tremendous rise in popularity of badminton over the years but lacks in efficient number of coaches for the same. 
Also read: How Indian Badminton players have invested in the Sport?
What is the 'Become a Coach Program'? 
Started in 2019, this program is a beginner-level coach program offered by Padukone Sports Management under the supervision of Prakash Padukone, who is the founder and director of the company. 
The program offers a combination of technical plus soft skills development which are important prerequisites for a badminton coach. Moreover, it equips the trainees with the knowledge and expertise required to become a successful badminton coach.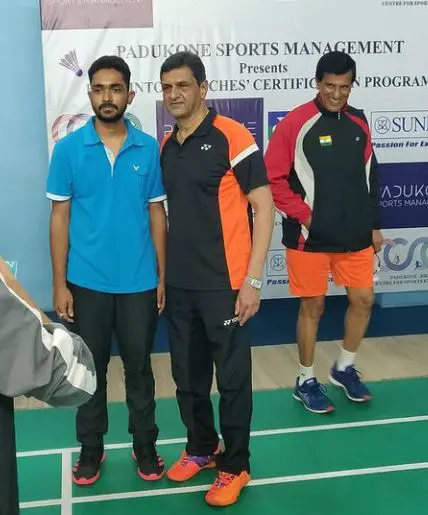 Program Details 
Online Course: 
Days: 11 days
Time: 2 hours per session
Fees: INR 8000
Offline Course: 
Days: 1 week(approx)
Fees: INR 21,000-22,000(approx)
Key Features of the Program 
 The basic training program will be suitable for an individual to become a badminton coach at the school level and eventually progress into state-level coaching. 
The Program is based on the BWF Level 1 plus Shuttle Time module along with the experience of the dedicated team. 
It can be completed online/offline depending on your requirement. 
What does the Program Offer? 
The Program follows a systematic and detailed structure that includes all prerequisites to become a successful badminton coach. 
A mixture of Theory and Demonstration Sessions are structured systematically.
The Coaches are physically trained to the fitness requirement so the sport. 
Basic Education on Sports Nutrition
An Exciting Opportunity to interact with badminton legends like Prakash Padukone and Vimal Kumar. 
Coaches are trained for First-Aid and Injury Management.
In the end, a certificate of completion is offered to the coach. 
Team
Narendra Ubhayakar- Senior Technical Consultant
Balachandran T R- Course Coordinator
Aditya Prakash- PSM Head Coach
Dr. Mohnish Sharma- Physiotherapist
Upcoming Badminton Coach Training Online Program
Date: 22 March to 2 April, 2021
Time: 11:30 am to 1:30pm 
Fees: INR 8000
For Registration or to know more details, click here.