World badminton has changed a lot over the past few decades concerning its competitiveness among countries and the quality of the game. Well, Asian countries have dominated the badminton World since its inception with the most dominant country being China. Interestingly, Badminton is the National Sport of Indonesia and the country has won the prestigious Thomas Cup (a World Men's Team Championships) for a massive 14 times. It is followed by China who has won it on 10 occasions.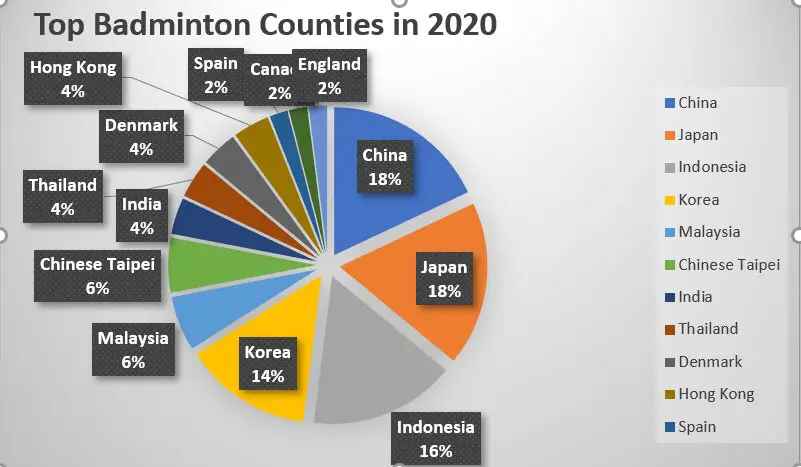 Nothing much has changed as far as the Asian domination of badminton is concerned. Unsurprisingly, China, Japan, Indonesia, and Korea (all Asian) are the current powerhouses of badminton. Well, in this article take a look at the top badminton countries and a detailed analysis of how each country performs in all disciplines of the sport.
China
China has been the strongest Country in the World since the inception of badminton. However, after the retirement of a few prominent players like Lin Dan, Wang Yihan, the new generation players are trying to make a name for themselves.  
As of now, in men's singles, China has Shi Yu Qi(World no. 9) and Chen Long (World no. 5). While Chen Long, the Rio Olympic Gold medallist, was known for his absolute defense and reach, his age is taking over and it is getting difficult for him to match the younger players. Shi Yu Qi was in a good form for the past few seasons, but after his injury, he has been struggling with his consistency. Moreover, both of them face difficulties while playing against tougher opponents from other countries, making China no longer dominant in the men's singles discipline. 
China's strongest discipline is Mixed Doubles, where it has achieved the top 2 sports in the World ranking. While the pair of Zheng Si Wei and Huang Ya Qiong take up the top spot, Wang Yi Lyu and Huang Dong Ping have taken up the second spot.
In Women's doubles, China has two pairs under the top 10 rankings- Chen Qing Chen and Jia Yi Fan as world number 1 and upcoming pair Du Yue and Li Yin Hui as World no. 5. With rising competition from Japan and Korea, it is doubtful that China would be able to hold its no. 1 rank. 
In Women singles, Chen Yu Fei (World no. 2) and HE Bing Jiao (World no. 8) are the top Chinese players. Chen Yu Fei is an all-round player having good court coverage, offense, and defense. He Bing Jiao has an aggressive style of play but struggles with top players while being inconsistent during attacks. 
China has only one pair in the top 10 of the World Rankings i.e. Li Jun Hui and Liu Yu Chen, also known as the "Twin Towers" due to their heights. They are ranked World no. 3 but have not been posting great results in recent tournaments. They either suffer against pairs who play a good flat game or who have an excellent defense to face their thunderous smashes. 
Japan 
Japan matches China with the number of players in the top 10 list. However, they are well rounded in all disciplines having higher-ranked players in almost all categories as compared to China. 
While China has only one Women singles player in the top 10 list, Japan has Nozomi Okuhara and Akane Yamaguchi. Both of them are consistent players but face some challenges with attacking players such as PV Sindhu, Carolina Marin, etc. Well, they have a more defensive style of play and if they will be able to adapt an attacking style, they would do wonders according to me. 
Moreover, Kento Momota is the World no. 1 scripting history with his performances. Undoubtedly, he is the greatest men's singles player Japan has produced and one of the best the world has ever seen. He recently recovered a fatal car accident and will hopefully be able to maintain his form in the coming tournaments. He is Japan's strongest hope for gold at the Tokyo Olympics.
With two pairs of men's doubles and 3 pairs in Women's Doubles, Japan is on the forefront in the doubles category as well. Also, their mixed doubles pair (Praveen JORDAN & Melati Daeva OKTAVIANTI) are ranked World no. 4. Well, this is their weakest category among all five. 
Indonesia
Badminton is the National Sport of Indonesia. The strongest discipline of this country is men's doubles where they have three pairs ranked under World no. 10. The no. 1 sport is taken by Marcus Fernaldi Gideon and Kevin Sanjaya Sukamuljo, also known as "The Minions", and the second spot is taken by Hendra Setiawan and Mohammad Ahsan, also known as "The Daddies".In the number 6 ranking are the young pair of Fajar Alfian and Muhammad Rian Ardianto who are also quite good players. Well, all three pairs are extremely versatile players, with unmatched coordination, and stamina, making Indonesia the scariest competitors in Men's doubles. 
After Taufik Hidayat, there wasn't an Indonesian player to compete in the top place for men's singles. However, now there is Anthony Sinisuka Ginting Jonatan Christie. They ranked sixth and seventh in the World respectively. They are all-around players but face problems with their consistency making their game very predictable sometimes. 
In women's doubles, their sole hope is on Greysia Polii and Apriyani Rahayu at rank 8. Indonesia's weakest discipline by far is women singles where they don't have even one player in the top 10 rankings. 
After the retirement of one of the strongest mixed doubles pair in the World, Liliyana Natsir and Debby Susanto, they still have two pairs under the top 10 rankings- Praveen Jordan & Melati Daeva Oktavianti and Hafiz Faizal & Gloria Emanuelle Widjaja.
Except 2012, Indonesia has won a gold medal at every Olympics since its inception in 1992. Hopefully, its record would be unbeaten at the Tokyo Olympics.
South Korea 
While Indonesia suffers in the Women's category, South Korea suffers in the men's category. There are no men's singles and in the top 10 rankings. 
The young and dynamic, An Se Young makes up for the women's singles discipline. She is ranked no. 9 currently and the 17-year-old has defeated some of the biggest players in her recent tournaments. 
Women's doubles is the strongest discipline of Soth Korea where it has 4 pairs in the top 10 rankings- Lee So Hee/Shin Seung Chan(World no. 4), Kim So Yeong/Kong Hee Yong(World no. 6), Chang Ye Na/Kim Hye Rin(World no. 9), and Baek Ha Na/Jung Kyung Eun(World no. 10). They are certainly strong pairs but have a tough chance with the Chinese and Japenese pairs. 
In mixed doubles, the country relies on Seo Sung Jae and Chae YuJung at rank 6 in the world, and in Men's doubles, Choi SolGyu and Seo Seung Jae (World no. 8). They will have to work very hard to get to the next level. 
Chinese Taipei
Chinese Taipei has gained significant form after the prominence of Tai Tzu Ying in women's singles and Chou Tein Chen in men's singles. While Tai is no. 1 in the World, Chen is ranked no. 2 in the World.  
Tai has created an unsurpassable record by winning the maximum superseries titles and reigning as World no. 1 for the longest period. She is truly a strong contender for the gold at the Tokyo Olympics. 
Chou is an exceptional player but lacks consistency sometimes losing to weaker players. 
Their presence in mixed doubles and women's doubles is not very significant. 
Malaysia 
After Lee Chong Wei, Goh V Shem, and Tan Wee Kiong, Malaysia is struggling with the International circuit. They have no strong players in the women's singles and doubles category. 
In men's singles, the 22-year-old Lee Zii Jia is the only hope. He is currently ranked World No 10, has shown great performances against top players. 
In men's doubles, they have the young pair of Aaron Chia and Soh Wooi Yik at rank number 9, and in mixed doubles, Chan Peng Soon and Goh Liu Ying who are ranked no. 7. Well, they have not shown great results till now but hopefully could make some changes in the coming tournaments. 
Thailand 
Thailand's strongest discipline if women's singles where they have the former World no. 1, Ratchanok Intanon. Recently, we have seen her become more of an attacking player which has put her to advantage most of the time. She has the potential to pull through against the strongest players but should be more consistent with her performances. 
The mixed doubles pair of Dechapol Puavaranukroh and Sapsiree Taerattanachai are ranked World no. 3. They have a strong fast and aggressive game and are a strong contender for other pairs in the World. 
India 
India's biggest asset is PV Sindhu, the Rio Olympic Silver medallist who is ranked World no. 6 in the women's singles discipline. Her thundering smashes are one of the best but if she works on her court coverage and net shots, she can rule the World ranking. 
For the first time, India has a men's doubles pair in the top 10 ranking- the young duo of Satwik Sairaj and Chirag Shetty. Well, they have shown impressive performances in the recent competitions, defeating the Chinese pair of Li Jun Hui and Liu Yu Chen at one instance. 
Denmark 
Well, Denmark relies on the men's singles discipline where they have tow players under the top 10 rankings- Victor Axelson and Anders Antonsen.the former World no. 1, Victor Axelson is making a strong comeback after a break due to an injury and is ranked World no 4. His steep smashes and quick court governance are his strong elements. 
Hong Kong 
Hong Kong has one player in the men's singles and mixed doubles category. Ng Ka Long is currently ranked 8th but has a tough time playing with stronger opponents. 
In mixed doubles, has Tang Chun Man and Tse Ying Suet are ranked World no. 10 but they have not gone far in any tournament. 
Other Countries
Spain relies only on one player, Carolina Marin, the Rio Olympic Gold medallist, and former world no. 1. After an ankle injury last year, Marin has spearheaded her ranking to World no. 6. She is a player who is always going to give her opponent a tough time. 
Likewise, Canada has one woman singles players, Michelle Li who has shown great performances in the recent tournaments. However, she faces difficulty n sustaining in long rallies and matches. 
England has one pair in the mixed doubles category Marcus Ellis and Lauren Smith ranked at number 9.
Final Thoughts
So here are the best badminton countries in the World as of now. It is based on the BWF ranking list (01.09.20) and can change depending upon the performances of the players.
I hope you enjoyed the article.
Thanks for reading. Keep playing.